A Wellness-Focused NYC Experience
Your body is a temple and we want to make sure it's nurtured during your New York City visit. A stay at Park Terrace Hotel is designed to leave you feeling more limber and more energized with a wellness program that offers yoga mats in every room and an exclusive hypnotherapy package to awaken your senses. Find your balance with seasonal yoga programs in Bryant Park, tai chi and boot camp classes, or work out with a Peloton bike, cardio equipment and free weights. When it's time to replenish, hit the sauna and give your muscles a much-needed rest.
Inside the Hotel
Seek the perfect balance between mind and body with a yoga mat in every room. At Park Terrace Hotel, no two workouts are the same. Whether hitting the bike in our gym, practicing poses in your room, or replenishing in the sauna, your wellness experience will leave you in a place of calm and serenity.
Find Your Zen
Center yourself in the hustle and bustle of the city. Each room is complete with a yoga mat and resistance bands. Press the Stay Fit button on your Smart TV to follow a tailored yoga practice. You can also take our yoga mats to the park for some al fresco namaste.
Awaken Your Senses
Awaken your senses with hypnotherapy, and leave feeling more confident and grounded. Our Hypnotherapy Wellness Package includes a 90-minute in-room or virtual session with acclaimed HMI Certified Hypnotherapist Ginger Gibson.
Sweat It Out
You'll find cardio equipment and free weights in our Fitness Center to tone and tighten. Guests can also take our Peloton bike for a spin with challenging classes and world-class instructors.
Heat Things Up
Keep your muscles loose and unwind after your workout with a visit to our sauna. You'll be ready to explore the city in no time.
Outside the Hotel
Why not explore New York's vibrant culture while you workout? From al fresco yoga classes to running routes past famed NYC attractions and sights, the City That Never Sleeps, just like everything else, has a workout for everyone.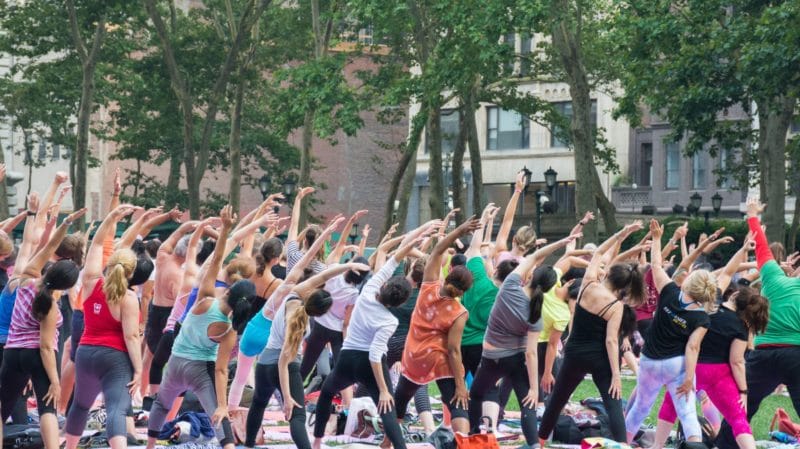 Namaste
Our front yard and Manhattan's Town Square — Bryant Park — has seasonal yoga and tai chi classes. Looking for something more challenging? Sign up for a boot camp class, which meets year-round rain or shine.
Shape Up
Call or visit the Front Desk if you need our help finding a boutique studio or gym so you can keep up with your favorite workout routine on the road.
Make a Run For It
We've also mapped our favorite running routes throughout Midtown. Press the Stay Fit tile on the Smart TV in your room to find your way and grab some chilled, purified water at the Hydration Station on each floor before heading out into the Big Apple.